Weight loss can be tricky, especially if you have tried different fad diets that make you cut off your favorite meals and snacks but still don't give you your desired goals. And even if you have resolved to eat healthier, you may see yourself falling back into old habits.
What if there is a step-by-step food timetable to guide you through losing weight for the long run, complete with Nigerian African delicacies that you actually enjoy? With extra recipes and simple exercises to supercharge your immune system.
If that sounds enticing, then you're in luck, as we have created a 21-day Nigerian food timetable filled with nutritious meals and exercises that will help you lose weight fast. All you have to do is commit for 21 days.
The 21-day meal plan is based on the formula of moderation. It guides you to follow the simple rule of weight loss – "burn more calories than you consume". It also teaches you how to lose weight naturally.
Read: How to Lose Weight Naturally – Easy Weight Loss Tips
This weight loss guide will provide you with a shopping list, 25+ delicious recipes, a 21-day timetable, calorie intake for each recipe, and serving tips to help you enjoy your meals but still lose weight. Also, it gives you a great foundation to personalize your own food timetable and keep losing weight.
If you follow this timetable religiously, expect to drop about 4-7 kg in 21 days. You should look fitter, younger, and even healthier.
What you'll gain!
You'll gain easy-to-prepare low-calorie recipes that are designed for busy people in mind, calorie intake tips, and the best weight loss tips.
Additionally, to make things easier for you, you can choose to prep all your meals during the weekend to save you the stress of cooking daily.
Also, you can switch up the ingredients to suit your taste and budget. For example, you can select different varieties of vegetables or protein to create your menu based on the guidelines in the book.
Below is an example of your food menu for days 1 and 2.
Week 1 – Energize
This week of the Healthful Weight Loss Eating Plan features easy-to-prepare menus, which offer exciting flavors and good nutrition; you'll enjoy plenty of delicious foods that will keep you satisfied and energized.
High-energy breakfast: ½ cup oats with 1 cup low-fat milk and one sliced banana (pg. 30)
Energizing snack: 1 medium-sized apple
Power lunch: 1 wrap of  moi-moi (pg. 40) with grilled fish and 1 cup of veggie salad (pg. 59)
Afternoon snack: one medium-sized orange with ½ cup cashew nuts
Dinner: 1 serving, chicken pepper soup (pg. 45) with one cup of veggie salad.
HIgh-energy breakfast: Veggie omelet (pg. 32) with 1 cup of healthful tea (pg. 34) 
Energizing snack: 1 medium-sized banana with 1 handful of peanuts
Lunch:  Leftover Chicken pepper soup with 1 wrap of cornmeal (pg. 45)
Afternoon snack: 1 medium-sized banana with 1 handful of peanuts
Dinner: 1 serving, catfish pepper soup (pg. 47) with 1 cup veggie salad
To get the full 21-days meal timetable, download a copy of the 21-day Nigerian Timetable for Weight Loss e-book.
What you'll get:
There are lots of support and answers to any questions you might have. Join this challenge today and enjoy the foods you love while you lose weight!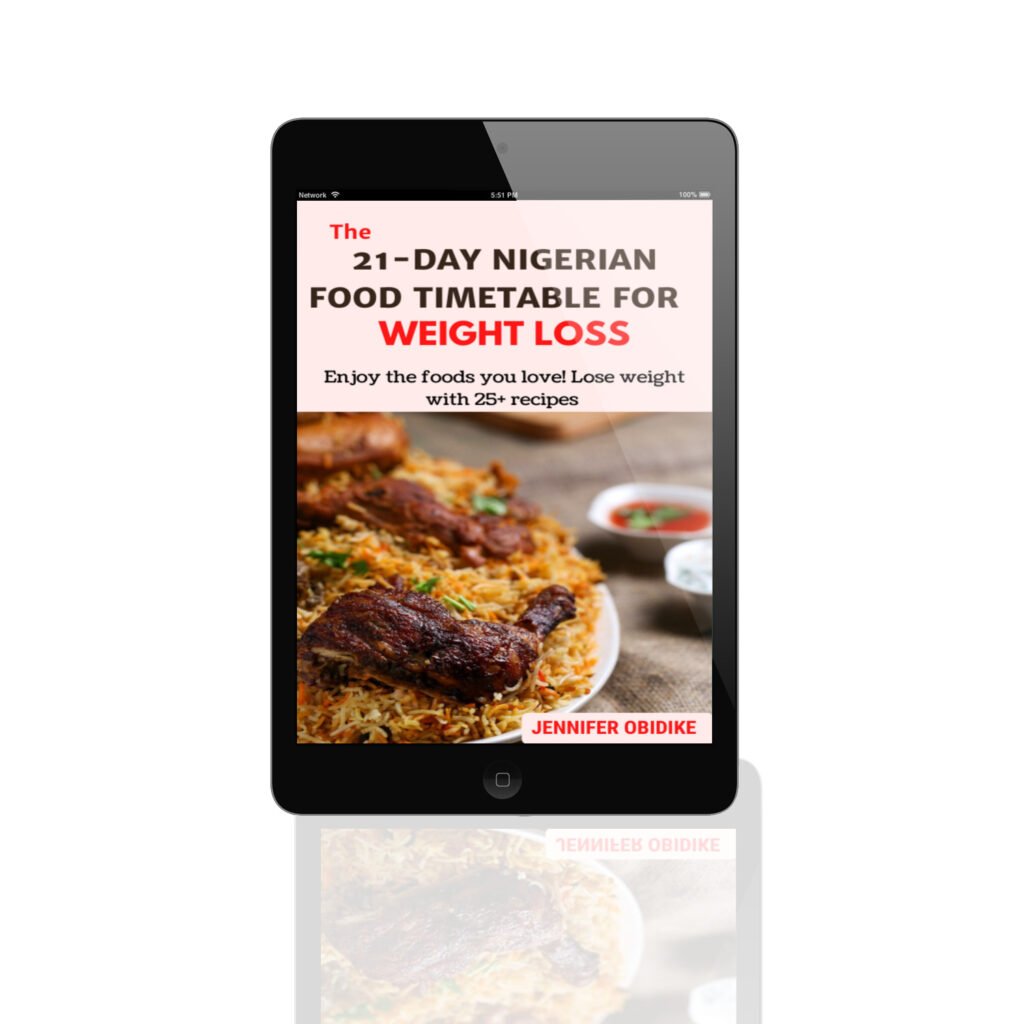 The 21-Day Nigerian Food Timetable for Weight Loss
Want delicious, healthy, and good for you and the whole family food timetable? Get exclusive access to a full 3 weeks of satisfying breakfast, lunch, dinner, and snacks ideas to help your weight loss goals. Click to get your copy of the 21-day Nigerian weight loss meal plan.
Don't Miss Any Wellness Tips!
Get new free and exclusive health tips delivered straight to your inbox!