Healthful Wonders is reader-supported. Some products displayed may earn us a commission. Learn more
Choosing the best baby cot or crib for your little one is a big decision that will affect your family for the next few years. And with so many models to pick from, you can be under pressure to choose the best. 
Don't worry, we have got you covered.
When choosing a baby cot for your baby, safety and durability should be the first thing on your mind (even if you're going for second-hand!). Keep the following in mind when selecting a cot for your baby:
Types of baby cots/cribs
There are five basic types of baby cots/cribs and the best one for you depends on your space, lifestyle, and budget.
Standard cot/crib: This is the traditional style of baby cots/cribs. It is safe, strong, and comfortable for your baby. Consider getting one of these if you plan to have more kids within a few years.
Convertible crib: This crib is becoming more popular these days. It can convert from a baby's crib to a toddler bed and even a full-sized bed. Meaning, your baby can use it from birth till he or she grows into a teenager. All you have to do is attach its convertible kits, which are often sold separately. They are also called 4-in-1 or 3-in-1 cribs.
Mini cot: A mini crib is larger than a bassinet, but smaller and usually more portable than the standard baby cots/cribs. You can use it if you have limited space. But keep in mind that your baby will outgrow it quickly, as it can be tiny.   
Travel cot: This baby cot is perfect for parents who are always on the go. They are lighter and very easy to set up and break down.
Bassinet: This is great for newborns 0–5 months. It is often enclosed with a net and is easy to move from one room to the other. 
Bassinet or Crib?
Most new parents are often confused about whether to buy a bassinet or crib. Though it is more of a personal preference, a bassinet may be preferred for your newborn (0-5 months). As it makes it easier to breastfeed and change baby diapers. 
And your baby can sleep close to you or on the same bed as you (the American Academy of Pediatrics recommends babies sleep in their parent's room – not the same bed – for at least the first six months).
However, as your baby grows (and they grow really quickly!), it is advisable to switch to a crib, so that the baby learns how to sleep independently.
Nevertheless, depending on your budget and living space, you can choose to start with a bassinet and switch to a crib when the baby is 4–5 months OR choose a durable crib from the onset.
Here are some of our favorite bassinets and cribs.
Best baby bassinet 
Foldable baby cot with net 
This net is quite economical and available in two colors – pink and blue. It is made of soft velvet polymer material and is accompanied by light bedding, a mosquito net, and a pillow.
The bedding is made up of synthetic material, so you may have to place an extra layer of cotton bedsheet before your baby sleeps on it.
The bed length measures 88 cm and weighs 3 kg, making it ideal for babies 0 – 5 months. As older babies will not enjoy sleeping in an enclosed space for long.
Graceland baby bassinet with net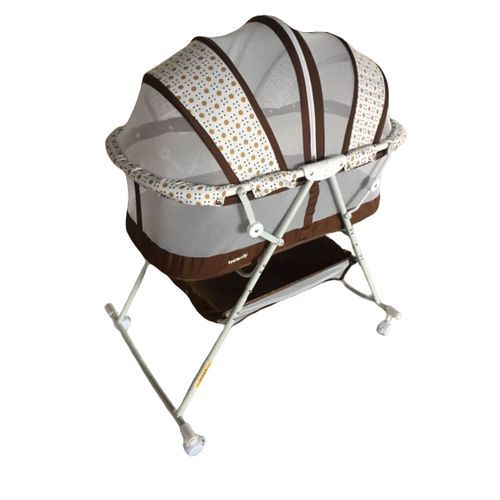 This beautiful bassinet is available in four unique colors – brown, lemon, pink, and blue. It is movable, allowing you to move your little one comfortably. 
Also, it comes with a rocking bed and mosquito net that gently rocks your baby to sleep and keeps insects away. It weighs only 9 kg and is easy to set up and fold up. Though it's from a trusted brand, your little one will easily outgrow it.
Mastela 3-in-1 deluxe multi-functional bassinet
What's not to love about this Mastela multi-functional bassinet? The electric swinging chair imitates the design of the mother's arms, and strongly supports the baby's back to protect the baby's spine. 
It comes with soft sleepy music and a removable/foldable mosquito net, to give your baby extra comfort. The chair moves at 5 angles and is attached to toys, a USB flash drive, remote control, and Bluetooth to play your favorite music. It's the ideal bassinet for your little one!
Also read: Best Nigerian foods to eat during pregnancy and what to avoid
Best mini crib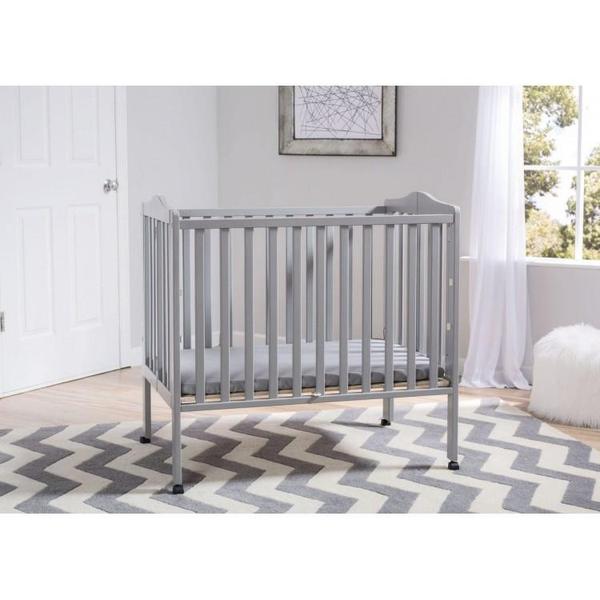 We like the Delta Mini Folding Crib with Mattress because it's among the best baby cots/cribs that you can fold up and store away when you're done with it. The fold also means it's super-easy to park next to your bed when you bring your newborn home, and also to roll over to the nursery when you're ready using its wheels. 
Also, it can be adjusted to a bassinet, playpen, and changing table. It meets all the safety standards and is made of non-toxic materials.
Best convertible crib
What's not to love about this Delta Adley 3-in-1 convertible crib with Mattress? It's made of non-toxic materials and strong hardwood, making us inclined to list it among the safest cribs, too. 
It comes with 3 adjustable height positions that grow with your baby (so they won't climb out) and can be converted from a crib to a toddler bed.
Best 4-in-1 baby crib
Designed with timeless appeal, the Delta Brookside 4-in-1 Convertible Crib with Mattress and Pillow is built to grow with your child. 
This sturdy wooden crib converts into a toddler and daybed and has three different height adjustments to use as your baby grows.
The company, Delta, also prides itself on meeting the Juvenile Products Manufacturers Association (JPMA)  standards, which means they meet or exceed the safety standards set by the U.S. Consumer Product Safety Commission (CPSC) and ASTM, which develops technical standards for products.
This crib will never go out of fashion (use it and hand it down!). 
Best travel crib 
The Mama kids Foldable Baby Trend Cot is a play yard and full-sized bassinet that makes napping easy at home or at grandmas'.
It is easy to pack up and comes with a removable changing table, net, and bassinet. It is great outdoors and comfortable for babies to sleep in on the go.
Also read: 15 powerful home remedies for baby's cold and cough.
Best modern baby crib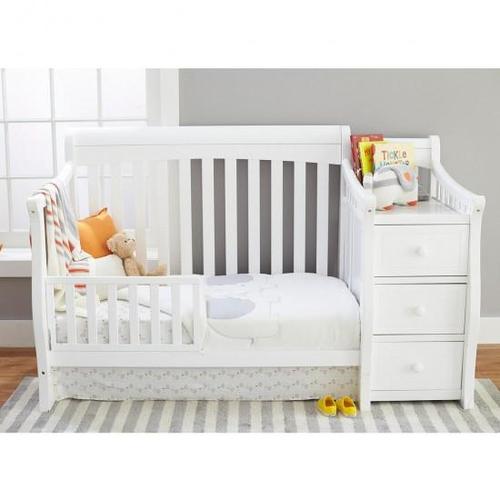 Really, what's not to love about the Roselle Tuscany 4-in-1 Crib with Mattress and more? With a few conversions, this crib can accommodate your little one from infancy through the teenage years.
It comes with a four-position adjustable height system that lets you lower the mattress as your curious and developing baby grows and begins to stand. It also comes with a changer and storage.
The baby's crib's beautiful design gives your nursery an open and airy look. Though you will pay more for this crib, you'll also get more!
Best baby crib with storage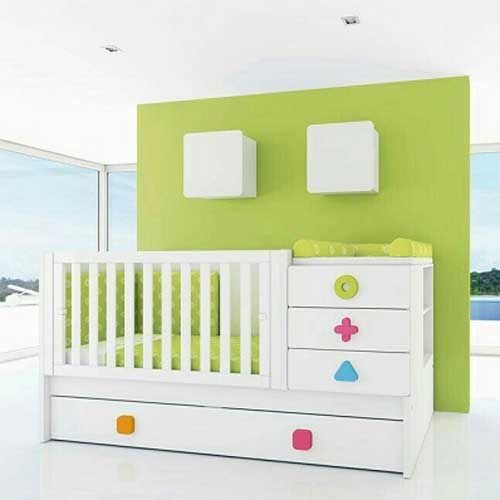 The Top60 exclusive 5-in-1 baby crib takes things to new heights. It provides you with extra space to pack the baby's belongings and even provides you with a portable changing space.
It's no secret that babies come with a lot of stuff. The full-size crib offers plenty of room for babies, even through the toddler years. Later, the crib can convert to a daybed, toddler bed, and even a full-size bed. 
Safe sleeping practices
The American Association of Pediatrics (AAP) recommends the following safe sleeping practices to prevent Sudden Infant Death Syndrome (SIDS):
Always place babies to sleep on the back, and a firm surface until they reach 1 year. Never use car seats, bouncers, or rockers for sleeping.
Keep soft objects like pillows, soft toys, quilts, and loose bedding away from your infant as they can obstruct their nose and mouth.
Breastfeeding helps to lower the risk of SIDS.
Always sleep with your newborn in the same room.
Avoid bumper pads in the baby's crib.
Use a light, well-aerated mosquito net on the baby's crib if necessary.
Don't Miss Any Wellness Tips!
Get new free and exclusive health tips delivered straight to your inbox!